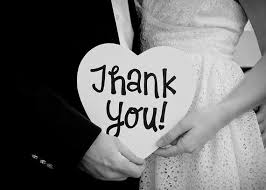 So many things have changed since Kenny and I married thirty-one years ago.  At that time, it was de rigor for the bride and groom to send a handwritten thank-you note for each gift.  Is it still so today?  In my opinion, yes it is.  But it is a personal choice.  With the advent of printing ease, and technology, there are so many more options – many deemed perfectly acceptable.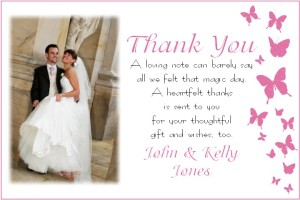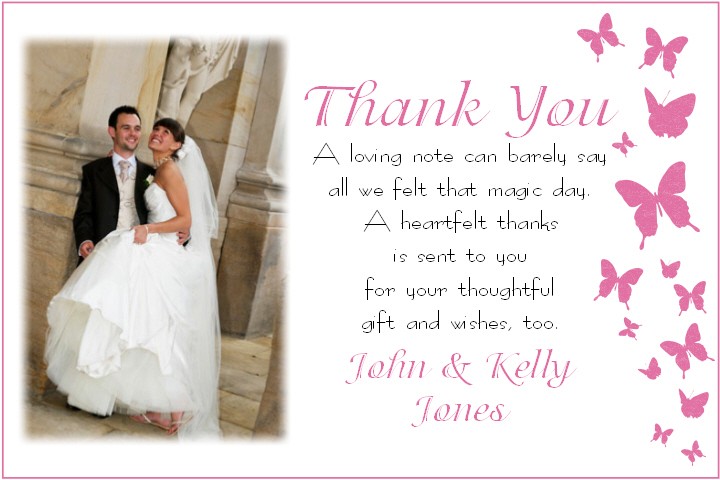 The card above is a unique approach.  It is personalized with the bride and groom's picture, but it is a pre-printed card to be sent to all gift-givers without mention of their specific gift.  Do you like this style?  Would you, as a wedding guest, be happy with such a response?  I would prefer a handwritten thank you card, but if this is not possible for a busy couple, I would like at least like to know that my gift was received.  I have been to a few weddings lately and for a few, have received no gift confirmation.  This makes for an awkward situation.  Does one ask if the gift was received?  I never have the guts…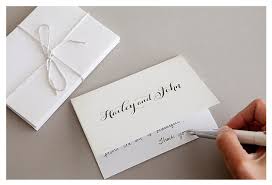 If you do choose to write personalized thank you notes, it's a good idea to order them when you order your wedding invitations.  That way, as the wedding gifts begin to arrive, you have the option to write them asap.  Get a head start!
I came upon a cute "thank you" idea recently.  The bride and groom took "selfies" with as many  wedding gifts as possible, and then texted the pictures to the gift givers.  I love this idea.  (I have it under good authority that this couple also sent handwritten thank you notes as well).
Whatever you decide to do…let your guests know their gift was received.  🙂
Header: www.unitedwithlove.com
Image #1 bridalguide.com
Image #2 weddingmoments.net
Image #3 brownlink.com