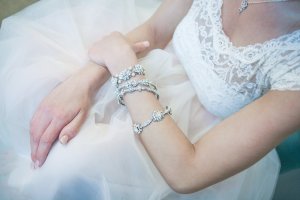 Wedding Jewelry…will you wear pearls or diamonds? The jewelry you wear on your wedding day can be sentimental, heirloom, or a fashion statement. Lots to think about… If you choose a dress that is fairly simple, i.e., little lace, beading, and fluff…you might want to "Kick it Up a Notch." You can do this with jewelry. I personally favor pearls, but diamond, or cubic zircon, can lend an air of panache. Check out these diamond wedding bands to see what I mean.. The model below incorporates both! I especially love her veil. The rhinestones add a special touch. I like the way it covers just to her brows, but not her eyes. This adds a softness, an air of innocence without completely covering her face – good for photos!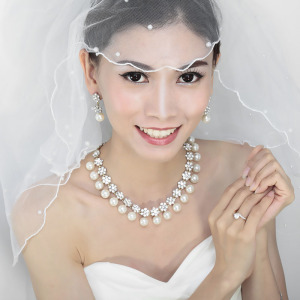 What about using jewelry in your bouquet? The bouquet below is made of silk flowers with jewels interspersed. It's novel and I'm quite taken with it. I think someone who was truly crafty could make a gorgeous, unique bouquet. I image eBay or tag sales would be a great place to pick up some vintage pieces. I collect clip on earrings, (I don't have pieced ears), and find GREAT deals on eBay. They're of surprising good quality too.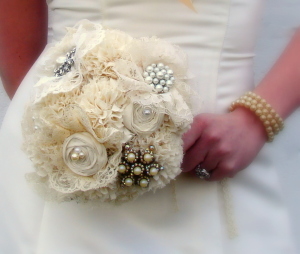 I've saved the best for last…below are art deco rings. Our KK will wear such a ring on her wedding day. As the first born daughter, of a first born daughter, of a first born daughter… she will wear my grandmother's platinum diamond engagement ring. It's much like the style below. It's fragile, and I wore it infrequently. I was "saving" it. I wish I had worn it more, as soon…it will no longer be mine. But I will give it to KK with joy in my heart on her wedding day, as is our tradition.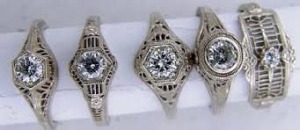 Header: www.weddingwindow.com
Image #1 Galleryhip.com
Image #2 okajewelry.deviantart.com
Image #3 wedzu.com
Image #4 www.hugokohl.com