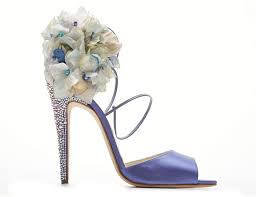 Second to your wedding dress and veil, the bride's wedding shoes make the greatest statement.  You can go for comfort, or style…or somewhere in-between.  I think you may notice there's a theme in this blog post… I like colored shoes.  I like a bit of flare.
I wore plain white pumps.  No embellishment, no sparkle, no flash.  Maybe that's why I so like the panache of a little color.  (Do you know how hard it is to find white shoes in the winter?  – We were married in January, and I put off getting my shoes till the last minute!  I purchased them at South Coast Plaza, Orange County, California – in the third week of December.

click on the link below to see this wedding shoe for $ 22.99 from amazon.
V-Luxury Womens 32-LARISA39 Round Toe Flat Ballerina Ballet Shoes
The crowds, unbelievable.  I knew Kenny truly loved me when he offered to drive me and stuck by my side the entire trip…except  when I tried the shoes on, of course!  He hated shopping then, as he does now…somethings never change!  🙂
If I had been smarter, I would have purchased my shoes at the bridal salon where I got my dress.  If I recall correctly, however, they were too "flashy" for me at the time.  NOW look what I think is beautiful!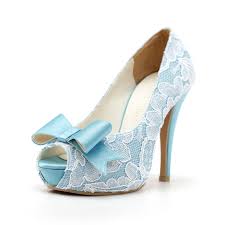 KK has the cutest idea for her wedding shoes.  I wish I could share it with you, I will after the wedding…but can't yet.  She is incorporating comfort AND style.  She has a bit of a shoe obsession…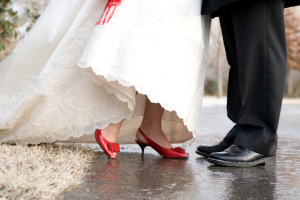 There is no need to buy your shoes at a bridal salon.  There are so many options out there on the internet.  But be cautious…if you order something from an on-line store overseas…you may be out of luck if you need to return them.  I ordered a bridesmaid dress from such a retailer.  Even though they said they had a "return policy"- they didn't.  They would not accept my return – and the dress was faulty – they wanted to "remake" it, plus have me order five more…really?!?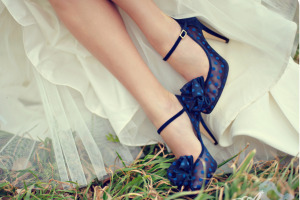 Header: www.weddingwindow.com
Image #1 glamour.com
Image #2 modernmagazine.com
Image#3 bridalbuds.com
Image #4 www.weddingwindow.com