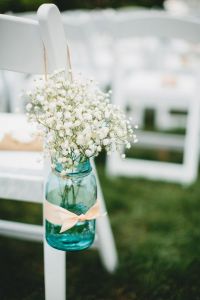 What about those chairs?  Oh, there are so many things to consider, and the seats where your guests will witness your ceremony can be a huge focal point.  Don't forget to decorate your wedding chairs!  Note the photo above.  I love this and if your wedding is on a tight budget, you can enlist a trusted friend or relative to untie these jars after the ceremony and use them as reception centerpieces!  I'm sure there are mason jars available in multiple hues that would compliment your color scheme.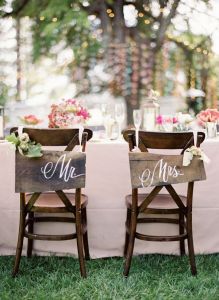 The photo above with the "Mr." and "Mrs." reception chairs is adorable.  I didn't think to do that for Maggie and Rob – but you can bet that I will for KK and Tyler.  See — there is an advantage from your mom gaining more experience in wedding planning!
The chair with the mauve covering is designed for chairs that are rather ordinary, and need a little sprucing up.  Who's to say they all have to be the same color?  Maybe each table could sport the same type of decoration, but each table could have their own theme and coordinating color scheme…food for thought…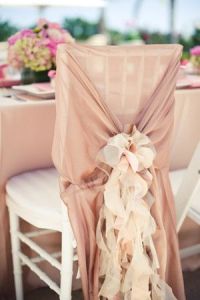 The silver chair below is similar to the type Maggie and Rob had (only their chairs were in gold).  I really  like the soft flow of this chair decoration.  I think it would be better suited for just the head table, however.  Can you imaging the work that would go into decorating 200 to 300 chairs in such a manner, and then dismantling them?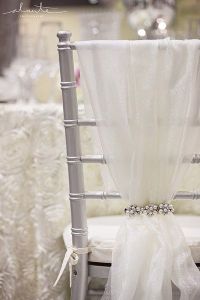 Decorations aside…remember to have chairs scattered at meaningful spots around your reception, i.e., by the toasting site, the cake cutting location, and dancing area, for those guests who are elderly or may be recovering from an injury…or may be just plain tired from all the festivities!
Header: www.erichegwer.com
Image # 1  livelikeyouarerich.com
Image #2  yesbabydaily.com
Image #3  invitesweddings.com
Image #4 wantthatwedding.co.uk
Image #6 lovemydress.net