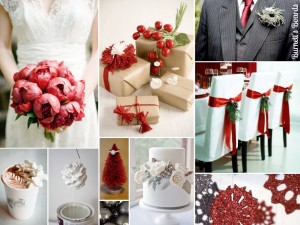 Would you ever consider a Christmas wedding?  What are the advantages?  Well, believe it or not, quite a few. First of all, if you are going to be filing your tax return as a married couple, you have tax benefits that are greater than filing individually.  I know, not very romantic.
But consider this…you have a built in theme!  Notice the picture above.  All the red is striking and your color scheme is pulled together from the beginning. You have a theme everyone loves and so many ideas to choose from, from songs, to wedding favors, (think Christmas tree ornaments!), to signature cocktails (spiked eggnog…yummy!).  Your church and reception venue most probably will have decorate for the season, making your job easier, and much less expensive.  And red is such a festive/celebratory color.  It just makes people happy…ok…I am biased.  Red was the color we chose at OUR wedding 31 years ago…  🙂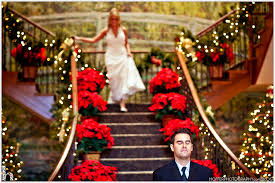 And if you have out of town family you are inviting for the wedding, they may be more inclined to make the trip if they can spend Christmas with you as well.
The downsides…yes, there are some…you may miss out on anniversary gifts.  Maybe that's why so many brides choose to get married in June – it's six months away from Christmas.  A woman has something to look forward to…  Your husband may not budget in a Christmas gift AND an anniversary gift in the same month.

If you do decide on a Christmas wedding be conscience of mailing those "Save The Dates" extra early to your guests so not make other plans for the holidays.  And when those wedding invitations go out, allow extra mailing time as well.  You do not want your invites to get lost in the Christmas card mail.

Header: www.unitedwithlove.com
Image #1 burnettsboards.com
Image #2 www.intimateweddings.com
Image #3 quotes.lol-rofl.com
Image #4 www.weddingfavor.info